Working virtually from home in my service business I find there are numerous training opportunities to expand my knowledge base as a Virtual Assistant.
One trend I really love is attending online conferences as they seem to fit into my busy lifestyle (plus my budget) much easier.  I realize how important it is in business to attend your industry conferences so that's why I developed the Virtual Assistant VAvirtuosos Summit (#VAVS).  Our 20th season is coming up October 25th-29th, 2021.
If you've not heard about this online summit for Virtual Assistants you can check it out here.
If you are attending let us know in the comments below so we can welcome you!
Here are 12 reasons why you should attend this online Virtual Assistant Summit:
1. Convenient:
#VAVS is educational training that you can enjoy from the comfort of your home office via our online webinar platform. All you need is a computer with speakers (or a headset) to listen with, an internet connection and YOU!
2. Cost-effective:
Where else can you receive 20+ hours of educational training for your VA business for only $37? That's less than $2/hour for training specifically geared to Virtual Assistants and service-based businesses. Attend an in-person conference and the travel costs plus admission to the conference will well be 20X+ this price.
3. Educational:
We've got 20 training webinars geared to educate Virtual Assistants no matter what level they are at in business. At VAvirtuosos you'll learn valuable information to help your VA business grow faster into the work at home empire you have always dreamed of having! We've tapped into our global network at VAnetworking.com to find Virtual Assistants who are thrilled to share their hard earned business wisdom with you. Informative, interactive and engaging seminars in an online webinar format presented by the best and the brightest in virtual assistance.
4. Accessible:
Attending an online conference means you can dip in and out of the seminars whenever you want without being noticed. If you can't make a seminar because you need to attend your child's hockey game or whatever, GOLD ticket holders can always catch the recorded video replay at a later date. It's so much easier to juggle your personal life demands and still access all the seminars at our online conference. You can even listen to the online summit in the background while you are doing other daily work activities in your business.
5. No dress code:
Attending an online summit means you don't have to worry about appropriate attire. Don't feel like getting out of your cozy, warm robe and slippers today? No worries, you can wear whatever you want for this event because the only person who will actually see you is YOU! No need to worry about putting makeup on or even showering if you don't feel like it.
6. Network with other VAs
Being this is an event specifically held for Virtual Assistants you'll be guaranteed to meet many other successful VAs attending it too. You'll also get to connect with a larger, more global group of Virtual Assistants, many of whom may have not attended an in-person conference due to expensive costs and travel constraints.
7. Get new clients:
You never know who you will meet and engage with during the networking chat times between the webinars. Just ask past attendees of #VAVS (read the raves) who will tell you that the interactive chatting between seminars with other attendees was as beneficial to their future business success as the seminars themselves! Many past attendees have found new clients through other more established VAs that attend who are looking to outsource and subcontract overflow work. Even some of the speakers and sponsors have hired VAs directly out of our audience.
8. Connect with top VA industry leaders
You'll get to meet the makers and shakers in the Virtual Assistant industry who speak at our event. You'll have the opportunity to ask them your questions during the Q and A period after their webinars. Many of our speakers also stick around during the networking chat times so you can get to know these industry leaders on a more personal level.
9. Stay on top of VA industry news
By hanging out and engaging during our networking hours between webinars you'll gain access to other Virtual Assistants trade secrets. The networking chat between webinars always teaches me more strategies and tips to help my business succeed. Not to mention provided me with new tools and resources I didn't even know existed.
10. Less worry & more time
Since you watch this conference from your home office you don't have to tend with travel worries like flights to book, getting a passport. waiting in custom and security lines, shuttles to arrange, hotel bed bugs (yes that's a worry of mine LOL), finding affordable yet decent food (so expensive eating out all week) and dealing with all your personal family arrangements you will have leaving home for a few days,  All of this planning and preparation to go to an in-person conference you won't have to tend to which will give you more time to do whatever you love doing.
11. More sleep
Whenever I attend conferences in person I find my sleeping schedule gets all messed up. Between the long tiring travel to get there and then all the late night networking into the wee hours I'm literally exhausted by the time I get back home. Not to mention I don't sleep well when not in my own bed. Attending online conferences does not interrupt my sleep patterns which is what I love most about them. If I'm too tired for one of the online seminars I can always watch the recording at a later date. Yes, sleep is my best friend now that I've gotten older so had to mention it as one of the reasons to attend online conferences. 😉
12. Prizes & Special Offers
We have put together a Swag Bag worth over $5,000 for our GOLD & DIAMOND attendees. These are full-sized products individually sold on each contributor's website and specifically of interest to Virtual Assistants and freelancers working from home. Not to mention many of our speakers give our attendees valuable discounts and special offers during their webinars to their training programs and products that you would never hear about otherwise.
For me, it's a no-brainer to attend online conferences and hope I've given you a few more reasons to look into attending your first online summit.
CLICK HERE to Get Your #VAVS Ticket Today! (Only 200 tickets available)
I'd love to hear why you love attending online conferences and look forward to you sharing with us in the comments below…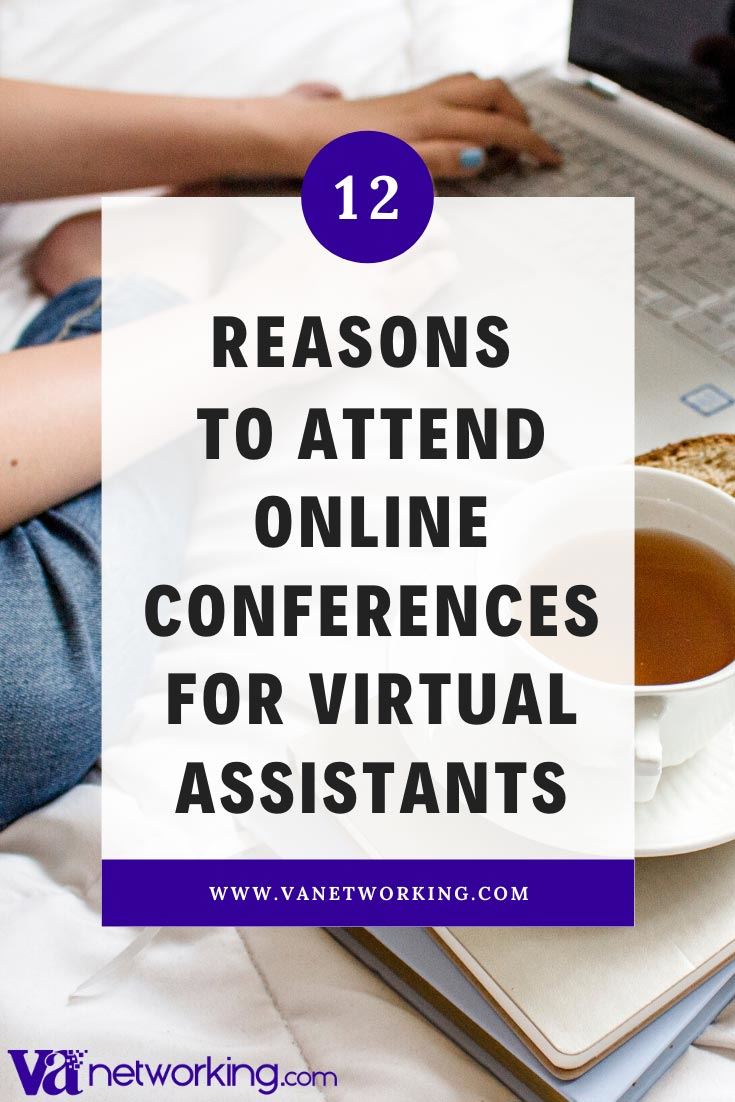 Editor's Note: This post was originally published in October 2015 and has been completely revamped and updated for accuracy and comprehensiveness.