When I first started freelancing, I looked everywhere for a freelancer invoicing app to help me streamline my online business.
See, I used to have this invoice template built in InDesign and stored somewhere safe on my computer. Every time I needed to send an invoice to my clients, instead of using an freelancer invoicing app, I would pull up the InDesign file, edit the content, "save as" and then email that invoice to the client.
(Enough intro? Skip right to the list of best freelancer invoicing apps.)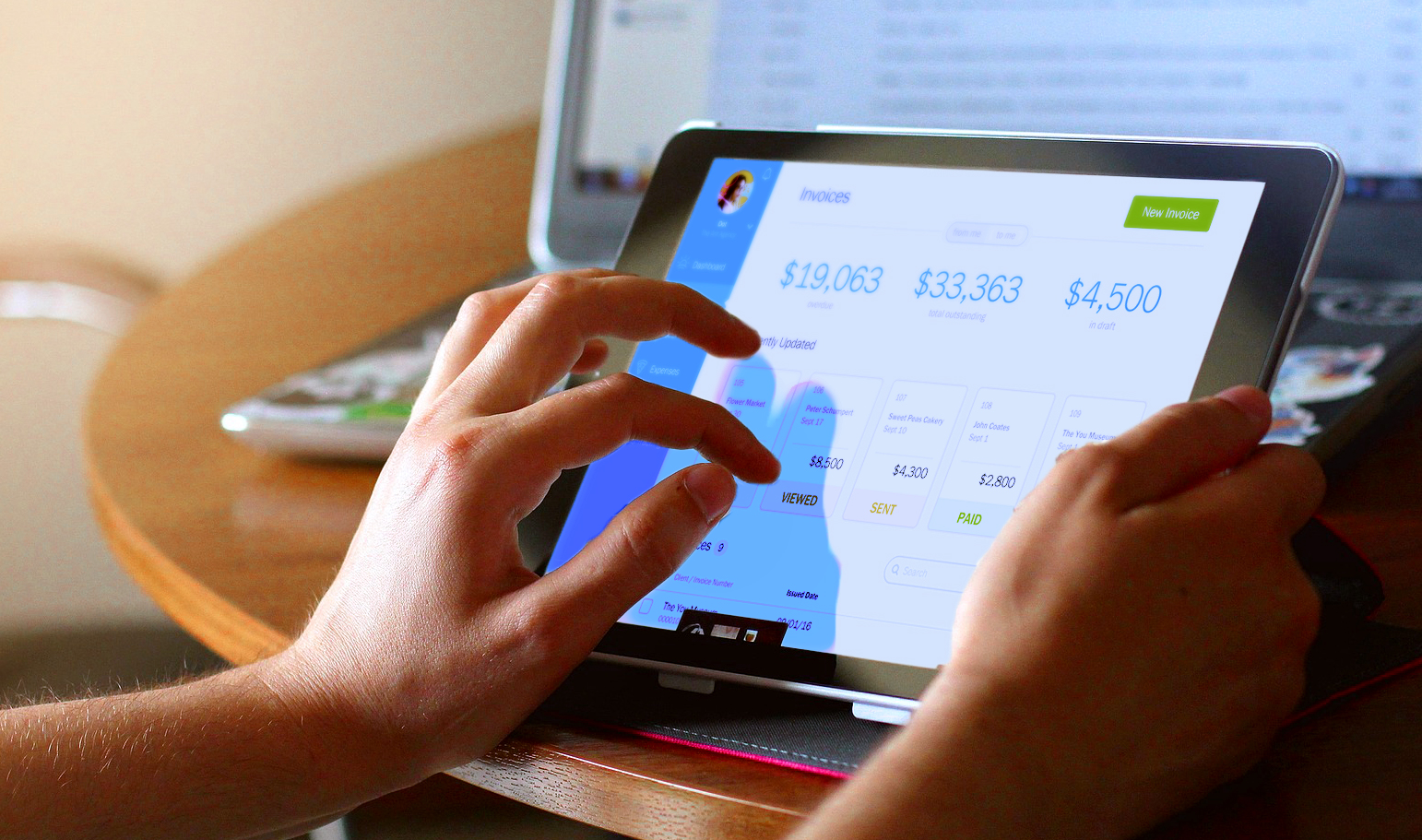 And it was a bit of a pain.
What didn't exist then (nearly 10 years ago) were dozens of incredible client management and freelancer invoicing apps to help you build super simple invoices, save them right in the web app (or mobile app), and then create and send invoices – all in less than a minute.
What I wish had happened when I first started freelancing was (1) that these freelancer invoicing apps even existed in the first place and (2) that some more seasoned freelancer would have told me about them. I could have avoided a TON of headaches and mastered the art of getting paid as a freelancer much more quickly.
So I'm here to do exactly that today.
I've collected a large list of invoicing apps below.
Many of them I have tried. Some of them have even supported this blog or one of our podcasts as a sponsor. But all of them are top-notch, high-quality freelancer invoicing apps that will completely change your business…. especially if, like 10-years-ago-me, you're still creating invoices from a template in InDesign instead of using an app.
Take a look through the list, give some of the apps' free trials a test-run and let me know in the comments which apps you think look the best for freelance invoicing.
Here are the best freelance invoice software available right now.
Need more clients?
Get more freelance work with our FREE book: 10 New Clients in 30 Days. Enter your email below and it's all yours.
Here are the 17 best freelancer invoicing apps on the market today: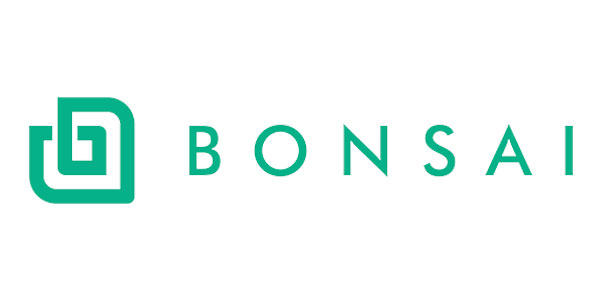 If you're a freelancer with a fairly simple business, not a lot of over-complicated projects, and a modest budget, then you can try Bonsai completely free using this link.
They've got an entire suite of resources for freelancers who want to run their business on autopilot.
You can read my full in-depth review of Bonsai for more info, but what I love about this app is they use data to help you make better decisions. With over 40,000 users, they know what it takes to get paid on time, charge more, etc. and they share that information with you as their customer directly in their app's interface.
And not only does the app let you create beautiful freelancer invoicing templates to use over and over again, but the app also has templated contracts and legally binding e-signatures which means you're protected as a freelancer.
More info from this app's website:
Bonsai freelancers get paid an average of 13 days faster, and have 3x fewer late payments
The app automatically generates and fills all your documents as soon as you start a new project
Work from anywhere and with anyone: Global payments, 180 currencies, International contracts
The Bonsai app has a really great 30-day trial you should definitely check out. You might find that this is the rescue you needed from creating freelance invoice templates in Word. 😉
Perhaps the most well-known freelance invoicing app out there is FreshBooks—and for good reason. FreshBooks has just about anything you could ever need for managing your freelance business—including some of the best freelancer invoicing features around.
With FreshBooks' app, you can create invoices in less than 30 seconds (whaa!?) and then you can send those invoices right to your clients from the dashboard.
And they have this really cool feature built right into the app where if your clients forget to pay their invoice, FreshBooks will send them an automatic reminder so that you always get paid on time without having to re-send PDF invoices dozens of times (trust me, I've been there).
More info from this app's website:
Set recurring invoices for clients who owe you a recurring payment each month
Accept payments online through the FreshBooks portal
Customize your invoice (which already looks super-professional)
Charge late fees (if you want to)
Send reminders for unpaid invoices
I know tons of freelancers and solopreneurs who have used FreshBooks—and I've never heard anyone say anything terrible about them.
If you'd like to try it out, they've got a 30-day free trial. The best part? You don't even need to put in a credit card to try their service. Score.
For more detail, you can also review our super in-depth article comparing FreshBooks vs QuickBooks.
HoneyBook is one of my favorites on this list, primarily because it comes packed with all the features you – as a creative professional – need to run your business seamlessly, from proposal to invoicing.
You can easily create and send branded proposals, contracts and customized invoices, all the while staying on top client tasks with automated alerts and notifications.
The design interface is easy-to-use with pipeline visualization where you see exactly where you are with your clients and what you need to work on – all in one place.
Sign up for HoneyBook today and get 50% off on your first year. 

In addition to allowing you to do simple freelancer invoicing from their app, QuickBooks Self Employed allows you to track mileage and other expenses and maximize your Schedule C deductions. Of course, there are also plenty of QuickBooks alternatives you may want to investigate as well.
If you use our link, you can try QuickBooks for free and save 50% on your first 6 months.
Another phenomenal app to recently come on the scene is AND.CO. Here's what I love about this app: their unique selling point is that they'll pair you with, not only great tech like the other guys but also a real-life human being to help you manage your entire freelance business.
So when you need more than just an invoicing app, AND.CO is here to help.
As soon as you complete a project in the project management section of the app, your "Chief Operator" will remind you it's time to send an invoice. No more trying to remember where you stored your freelancer invoicing template, copying and pasting, saving as, and emailing. You can have your team and the app at AND.CO do it all for you.
More info from this app's website:
Create invoices in 20 seconds or less (whoa)
Track your time on your projects to create timesheets and invoices magically
Track your expenses to save cash at tax time
The AND.CO app has a no-credit-card needed free trial which you can try out right here. Give it a shot. I think you'll like having a real human being helping you run your freelance business.
ZarMoney is a renowned invoicing solution best suited for freelancers and small businesses. Despite being a feature-rich software, ZarMoney doesn't have a steep learning curve which makes it a worthy recommendation in this list. The app has a self-navigating user interface – enabling users to generate professional-looking invoices in a matter of seconds.
Since freelancers fight many battles on a daily basis, ZarMoney simplifies the accounting processes by enabling users to populate invoice fields from the client database, automate the billing cycle, accept payments online, and reconcile financial statements hassle-free.
ZarMoney is an invoicing solution tailored for freelancers and solopreneurs. The app allows you to:
Create professional invoices in seconds with email and print option
Customize invoices as per your specifications using the available templates or making one best suited for you
Automate invoicing workflows and billing cycle
Accept payments online securely and hassle-free
Ask clients to pay directly from the invoice by simply clicking the 'Pay Now' button
Track your payments and expenses to gauge profitability
Send alerts, reminders, and notifications to your clients
Provide quotes or project estimates and convert approved quotes to invoices with a single click
Extract valuable insights and reports to monitor your progress
Calculate and file taxes automatically without having to crunch numbers manually
Reconcile bank statements in a matter of seconds
Take ZarMoney for a spin using its Free Trial and see if it works out for you.
I've recently met the founder of Plutio, an up-and-coming freelance invoice app that handles not only invoicing but everything your small business might need. Plutio helps you create tasks for whatever needs to get done and keeps you organized so you can stay focused.
You can also communicate with anyone in your business through real-time messaging and integrated emails which can be a real life-saver.
If you're ready for a fast, easy-to-use option that deeply customizable, check out Plutio here.
More info from this app's website:
Set your schedule and allow your clients to effortlessly book sessions and meetings.
Connect your Stripe, PayPal or bank account and accept payments securely.
Attach invoices to projects for keeping track of where they belong.
You can create a Plutio account for free right here. No credit card required.

Self-described as the world's most powerful online invoicing and billing app, Invoicera focuses less on all the project management stuff and more on helping you create freelance invoice templates and send finalized invoices to your clients.
More info from this app's website:
Manage all your buyers and vendors from a single app dashboard ensuring all the invoices and payments are exchanged in a timely manner.
Integration with 25+ global payment gateways. Receive payments from clients across the globe.
Get customized business invoicing solutions by creating a smooth invoicing workflow for reduced invoice exceptions and disputes.
You can try the Invoicera app completely free—no credit card required.
Here's what I love about Harpoon: in addition to being a great app for sending freelance invoices, it's also a great motivator and stats tracker. You tell the Harpoon app how much you need to be making as a freelancer, how much your insurance costs, what your other expenses are, how much profit you need to make in order to support your lifestyle, and Harpoon keeps you on track.
It's like your mother nagging at your when you're a teenager—except this experience is completely enjoyable.
More info from this app's website:
Calculate an annual revenue goal and then use the Harpoon app to reverse engineer your goals
Dynamic monthly goals allow you to adjust each month so you stay on track for your annual goal
Like the other guys, the Harpoon app has a free trial you can use to get started. Maybe planning your full year in advance is what you've always needed.
Like most of the apps in this list, FunctionFox does way more than just send freelance invoices. Their goal is to help you stay organized, stay on budget, stick to your deadlines—all while staying creative.
The coolest part of the app is probably the customizable dashboard—it's like an air traffic control tower for your freelance business: one place where you can see everything that's happening at once.
More info from this app's website:
Schedule project milestones, meetings and actions in the app's easy-to-manage calendar view.
Adding your projects is simple. Enter information into the app only once and update as needed.
Compare estimated budgets with actual figures to keep projects on target and the scope under control
You can try the FunctionFox app for free for 14 days and test out the cool features for yourself.
The name for the 17 Hats app comes from that feeling when you're a freelancer or solopreneur and you wear all the hats: it's your job to get the creative work done, but it's also your job to send the invoices, remind your client, advertise your services, improve your profit margin, pay your taxes, etc etc etc.
It can be a nightmare. Enter, the 17 Hats app.
You can try the 17 Hats app free for 17 days…see what they did there?… which is a bit longer than some of the others, so there's that.
InvoicePlane is a unique app on this list. Not only is it almost exclusively a freelance invoice app, it's also completely free. But there's one small catch: it's a self-hosted app. Meaning, if you choose to go with InvoicePlane, you'll also need to get some hosting via Bluehost, Dreamhost, or Host Gator.
Download the InvoicePlane app for free here and get some super-cheap-but-reliable hosting via Bluehost (use our link to the left and get a FREE domain + hosting for just $3.95/month.)
With a reputation that's been around for over 10 years, Kiwili is an invoicing platform you'll want to check out. They make billing and getting paid a breeze, and even throw in features like CRM and Project Management. For a super basic plan (1 user/3 customers) it's FREE, and the paid plans are flexible for your needs (and pretty affordable, too).
Check out Kiwili and sign up for a free 14-day trial here.
Hurdlr is an invoice software solution for freelancers and small business owners, with the essentials for getting paid. Features include custom branded invoices, expense tracking, estimates, and credit card payments.
Paired with their accounting features like mileage tracking, taxes, and income tracking and you have a very powerful tool at your fingertips.
Learn more about Hurdlr invoicing here.
Zipbooks has different levels of their app for every kind of freelancer and entrepreneur. From the free tier—which offers unlimited invoicing—to the "Services" bundle at $125 that gets you loads of premium app features including your very own real-life human bookkeeper.
Pair that with a super-clean app interface and easy-to-use design and ZipBooks is a definite contender.
You can sign up for the free version of ZipBooks here.
InvoiceBerry is an intuitive online invoicing software designed with small businesses in mind. The software allows you to securely create and send professional invoices to your clients as well as create various reports and manage your expenses to stay on top of your business finances.
InvoiceBerry is a perfect solution for small business owners as it helps save invaluable time and money. With InvoiceBerry, you can:
create professional invoices and send them to your clients via email, save them on your device or simply print them out
customize your invoices – multiple pre-designed templates and colour options makes it simple to customize according to company needs
invoicing on autopilot – schedule your automatic invoices for your repeat and regular clients
accept payments online  – Stripe, Square, PayPal or WePay
keep track of your paid and unpaid invoices
send polite reminders to your clients
add expenses and see where your money is going
generate reports for your clients, payments, tax summaries, and expense and business performance
add other users to your account and let them do the invoicing and quoting for you
Another app I've heard a lot about from the Millo community is Harvest. Not only is it a time-tracking and freelance invoice app, but you can also add members to your team: a feature some of the options above lack. This can be helpful if you plan to scale your freelance business to be bigger than just you in the future.
If you're ready to start growing you can try the Harvest app free for 30 days.
Wave's been helping freelancers and solopreneurs send invoices for a long time now. Their app also offers some great bookkeeping options. They also allow you to send clean freelance invoices in their app and receive payments directly as well.
You can join over 2 million freelancers and contractors by signing up for a free account here.
And that's the list of freelance invoice apps…
If you're ready to take your freelance invoicing to the next level (I'm talking saying 'goodbye' to your InDesign docs), there are plenty of apps for you to try over the next few months listed above.
But whatever freelance invoice app you settle on, here's one last key lesson: select an app that saves you time, not something that makes your job more complicated. I know that sounds obvious, but you'd be shocked how many people spend more time updating their apps than actually working on their business—actually doing work that brings in real revenue.
Let me know which apps you have used in the past or which ones you hope to try in the future. You can also include any apps or details I forgot + questions about anything below.
Keep the conversation going…
Over 10,000 of us are having daily conversations over in our free Facebook group and we'd love to see you there. Join us!